The Tri-County Fair Society, Inc.
The Tri-County Fair Society, Inc., was created and Incorporated under the Not-for-Profit Corporation Law of New York State in 1973 for the express purpose of coordinating and administering the exhibitions and activities of the Granges in Albany, Greene, & Schenectady Counties in the Grange Exhibition Building at the annual Altamont Fair.  Officers are elected anually at the August meeting following the Fair.  All Grange Members in the Tri-County area are entitled to attend, participate, vote, and are eligible to hold Office in the Society.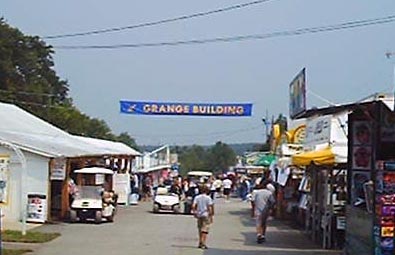 2015 Fair Pictures here
2016 Fair Pictures here
2017 Fair Pictures here 
2018 Fair Pictures here
2019 OFFICERS
President:  Vernon Starr 518-567-4294
Vice President: Ray Starr 518-767-2957
Secretary:  Emily Shoop 518-488-7833
Treasurer:  Stephen C. Coye  518-756-1118
Chaplain: Liz Moran
FAIR BOARD REP'S/BUILDING MGR'S
Stephen C. Coye 518-756-1118 Superintendent
Lois Hayner: 518-399-9492 Asst. Supt.
2019 MEETING DATES
May  8- Altamont Fair Grounds
July 10 - Altamont Fair Grounds
August 7 - Altamont Fair Grounds
August 21 - Altamont Fair Grounds
2019 EXHIBITING SCHEDULE
Booth # 1 - Bethlehem Grange
Booth # 2 - Ravena Grange
Booth # 3 - Capital City Grange
Booth # 4 -Glenridge Grange
Booth # 5 -Glenville Grange
Booth #6 - Hiawatha Grange
Booth # 8 - Capital City Jr. Grange
Booth # 9 - FAC - Schenectady Co.
Booth #10 - Junior Craft Display
Booth #11 - Bethlehem Jr. Grange
Booth #12 - Glenridge Jr. Grange
Booth #13 -Ravena Jr. Grange
Booth #14 - Schenecctady Co. Pomona Grange
Booth #15 -  Albany Co. Pomona Grange

The Tri-County Fair Society wishes to thank Ravena Grange for granting permission to use space on their website.